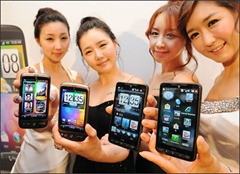 We wrote earlier about SK Telecom turning to HTC in its competition against the iPhone in South Korea.  HTC has now launched the HTC HD2 and HTC Desire at a lavish news conference today.
"We believe bigger is better," said Alex Liu on HTC's product marketing team. "With this screen we believe we took the Windows phone to a whole new level."
The handset will be available through SK Telecom later this month.
Via Korea Times and Joongangdaily