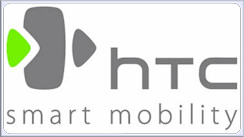 HTC has managed to enter the hallowed halls of the 5 biggest smartphone producers, by not just moving from position 7 to position 5, but all the way to position 3, displacing Sharp by growing 119% and shipping 1.33 million own brand Windows Mobile smartphones.  However a total of 3.87 million Windows Mobile smartphones were shipped, and we know HTC produces about 70% of the ODM Windows Mobile devices, meaning their real shipments are a lot higher.
The data is for Q2 2008, the period running up to the shipment of the HTC Touch Diamond, so its likely HTC's total shipments for Q3 will be even better.
Of course HTC dreams much bigger, hoping to become a top 5 phone producer, which is certainly still very far off, but they must be pretty satisfied with their performance so far.
See Gartner for more details.