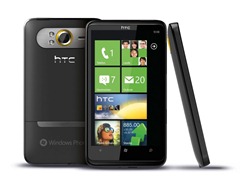 InfiniteMonkeyblog is reporting on some rumours that Telstra may be getting the HTC HD7 shortly. The Australian network already has the HTC 7 Mozart and the LG Quantum.
The rumour was started by a Telstra employee posting on the Whirlpool forums, and states that the 4.3 inched screened handset will be available to order on the 15th March.
They write:
I do not usually post but as a Telstra employee I can tell you that the HD7 is listed as available to order March 15th, cheers.
Telstra CEO David Thodey has recently said Windows Phone 7 devices have accounted for about 7 to 8 percent of new sales at Australia's largest phone company since they were introduced late last year, so and additional and attractive handset should just boost that number.
Read more at InfiniteMonkeyblog here.
Thanks Scott for the tip.