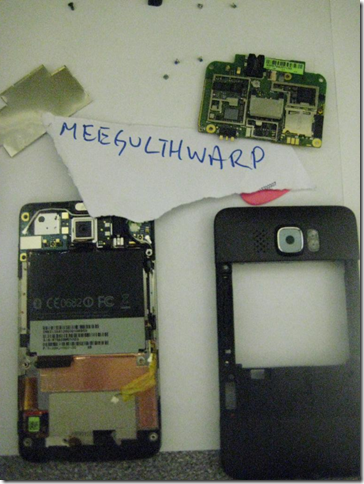 There are many sceptics who do not believe the evidence that the HTC HD2 contains the Broadcom  BCM4329 chip, a chip which is capable of both WIFI N and also acting as a FM transmitter (useful for connecting with your car radio).
Meegulthwarp on XDA-Dev has decided to put an end to all the speculation, and has taken pictures of his disassembled HTC HD2.
The outcome is that he has been able to confirm the chip is the BROADCOM BCM4329EKUBG.  There is also a controvesy raging at the moment about the amount of RAM in the HD2, with some saying all HD2's have 576 MB RAM, and others claiming only the T-Mobile version will have it. Meegulthwarp has found the chip in the European HD2 is the HYNIX H8BES0UU0MCR (46M 941A 8MRQ432), but it is not clear what this means yet.
See the pictures below, and read more in this XDA-Dev thread here.
click for larger versions