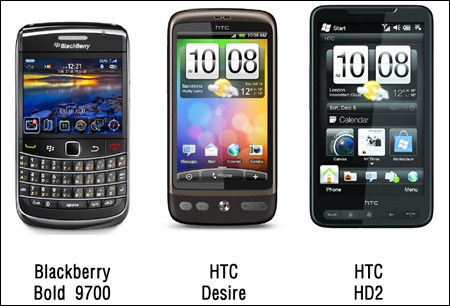 The iPhone has been a quiet success in South Korea, selling around 500,000 units in 4 months on the smaller KT carrier there.  SK Telecom, who dominates the cell phone market there, is however not taking this lying down, and has promised to introduce a slew of attractive devices, including the HTC HD2.
Samsung, Korea's biggest cell phone company, has taken KT's adoption of the iPhone rather personally, and has withdrawn the supply of new handsets to the carrier, and even stopped supporting current handsets there, for example not releasing a Windows Mobile 6.5 upgrade for the Samsung T*Omnia, called the Show Omnia on that network, where it only sold 40,000, while doing joint promotions for the same handset on SK Telecom, where the T*Omnia sold 470 000.
"The Show Omnia is an illegitimate son who can't call his father, father," said KT's Chairman Lee Suk-chae, using the old Korean folklore of Hong Gil-dong, the Joseon Kingdom equivalent of Robin Hood, as a metaphor.
Despite iPhone's popularity, SK Telecom still has a larger number of smartphone customers thanks to its vast line-up of premium handsets, and Samsung seems hell bent on assuring that things stay that way.
Since it released the iPhone in November last year, KT admits it has been experiencing "serious difficulties" trying to add wealth to its smartphone line-up, with Samsung Electronics and other major vendors channelling their products through SK Telecom. SK Telecom is said to have no plans to release the iPhone.
Read more about the growing feud at KoreaTimes here and here.