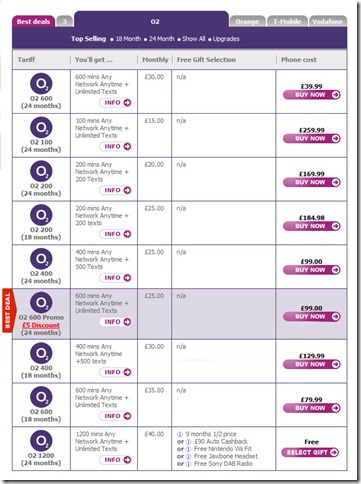 Click for larger version
Not the official pricing yet, but O2 reseller Mobiles.co.uk is offering the HTC HD2 for pre-order on an O2 contract on various tariffs, the cheapest which will see you have the device for free, and the most expensive topping out at £259.  All the contracts are between 18 and 24 months, with the venerable 12 month contract now seemingly dead as a doornail.
Mobiles.co.uk claims their best deal is the O2 600 Promo which gets you the device on a 24 month £25 per month contract for only £99 with 600 anytime minutes, but I reckon the £25 18 month contract for £184.99 is significantly cheaper, but comes with only 200 minutes, but then who still talks on their phone?
Read more at Mobile.co.uk here.
Thanks Chris for the tip.