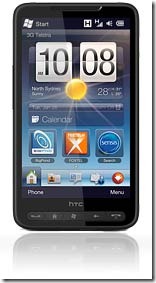 The HTC HD2 has now been released officially on the Australian Telstra network.  The superphone will be exclusive on Telstra until the 30th of March 2010, with the phone available in-store or online from today.
"The HTC HD2 is one of the most advanced and intuitive phones HTC has ever created," said Anthony Petts, Sales and Marketing Director ANZ, HTC Corporation. "The phone provides users with the winning combination of Windows® Phone functionality and one of the largest, most visually stunning capacitive touch displays available on the market. It is simply a joy to use."
The smartphone will be running at $0 on an $80 plan for 24 months, or for businesses of government departments $85 on the Mobile PLUS plan.
Via itechreport.com