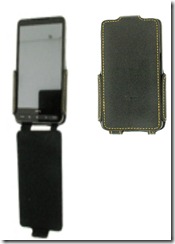 Talking about HTC HD2 accessories showing up on O2, Expansys has gone one further by actually having something to buy.
The HTC HD2 Optional Leather Pouch PO S511 seems to be a pretty nice flip case with a magnetic clasp, but I suspect the case would have worked even better in a book-type design.
Of course for only £9.99 you cant be asking for too much, and unlike the HTC HD2 you can buy one right now.
Read more here.