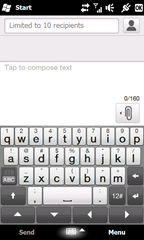 HTC's HTC Sense SMS software does not have the best reputation for speed and reliability, and while it seems recent versions of HTC Sense have fixed the issue, this does not help users running carrier ROMs.
Fortunately HTC has decided to take care of current owners by shipping a hotfix for the HTC HD Mini and HTC Touch Pro 2.  The update "amends the internal management of SMS functionality, and enhances SMS transmission stability.", and is suitable for ROM version 1.36.XX on the HTC HD Mini and ROM 2.08.XX for the HTC Touch Pro 2.
Download the HTC HD Mini version here, and the HTC Touch Pro 2 version here.
The update should leave your data untouched, but a backup is always advised.