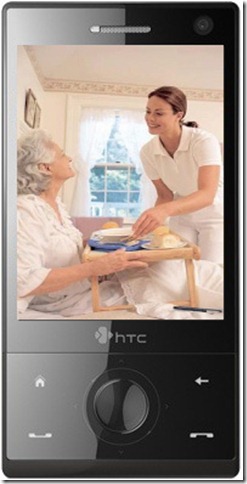 We have written earlier on HTC Touch Pro's being used by the military to enable them to be more efficient, but here is a story of the other side of the coin – the very same phone being used to save lives instead.
Patients who have chronic wounds and may be immobilized can now receive treatment in their homes by experienced clinicians who collaborate remotely with certified wound care specialists miles away. Wound Technology Network is using wireless technology services from AT&T* and empowering healthcare professionals with smart mobile devices to diagnose and prescribe treatments for patients with chronic wounds anytime, anywhere.
Under a two year agreement with AT&T, Wound Technology Network will equip its clinical staff including physicians, nurse practitioners and physician assistants across South Florida and Southern California with HTC FUZE(TM) smart mobile devices when providing care in patient's homes. Clinical staff will use the devices to access an application developed by iVisit, which creates videoconferencing tools for mobile devices and PCs, and speak live with a wound care specialist at Wound Technology Network's tele-health center who will assist them to assess their patients' wounds and perform the necessary treatment. To aid in the treatment process, clinical staff will also capture images of the patient's wounds using the HTC FUZE(TM) and transmit the images to the wound care specialists to upload onto an electronic medical record which is immediately faxed to the patient's primary care physician.
Until now, immobile patients and often those with chronic wounds relied heavily upon transport services for access to treatment, which often accounted for delayed diagnosis, prolonged hospital visits, and unnecessarily high treatment costs. Now having clinicians equipped with smart mobile devices, immobile patients have access to expert specialists for real-time diagnosis and treatment.
"Here at Wound Technology Network, we recognize that consistently delivering the highest quality wound care is difficult, but with the help of AT&T, we are able to deliver all the advantages of physician based services while we are treating patients in the comfort of their home," said George Pollack, Chief Technology Officer. "Not only are our specialists able to deliver on-site quality care in real-time, they are able to aid in significantly minimizing the healing time of patients and the overall cost of their treatment."