The last stop in this stream of leaks should be the HTC Fortress, AT&T's version of the HTC Touch Pro 2.
Like the HTC Warhawk, the device is also subtly different from its unlocked and European version.
Most significant is the presence of a separate number pad on the right of the keyboard, unlike the usual top row, and suggests again a very narrow aim at the business customer who will likely see the smartphone more as a mini-laptop than an actual phone.
Interestingly, given how different the keyboard is, it makes it more difficult to argue that the front-facing camera is simply an oversight, and suggests that the device may ship with this feature after all. (Edit: Of course the QWERTZ keyboard suggests the render is based in a European model, which negates that argument completely)
The device was set to launch with Windows Mobile 6.1 on the 25 May 2009, but we know this date is rather unlikely. Significantly however is again the mention of a Windows Mobile 7 upgrade in September, again dating the slides to a time well before the interminable delays which plagued the OS.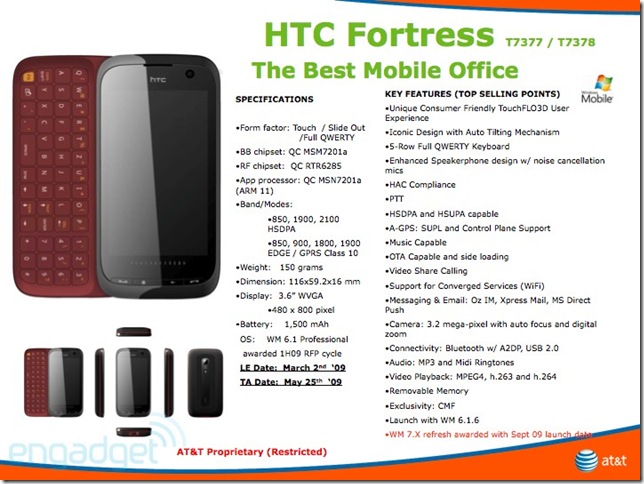 Via Engadget.com
Thanks Wreiad for the tip.