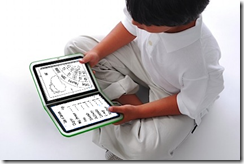 In an interview during the HD2 launch yesterday  Peter Chou revealed, despite early protestations, that HTC was still interested in the netbook segment.
In some ways HTC has been a pioneer in the area, but forgot the "cheap" part of the cheap and limited equation with the HTC Shift, their Vista PC with an integrated Windows Mobile smartphone.
Similar to that device, HTC does not just want to make another me-too device, but rather something with "unique value".  The HTC CEO did however say they were "carefully looking into that category and how it can be part of that".
HTC has in recently published a number of patent applications for a new user interface which appears very likely to see the light of day and may be the new take of a netbook the company chief has been alluding to.
Read more CNET here.