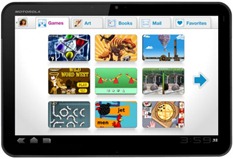 HTC, who has been on a spending spree recently, has just purchased another odd-duck company.
Their most recent purchase is Inquisitive Minds, a California-based company which owns game app Zoodles, which is designed for children aged eight and younger, which HTC purchased for $13 million.
"Children interact with technology in a wonderfully natural way," Mr Chou said. "It's important that they are protected while exploring and learning. We want to create a wholesome, family-oriented environment for our HTC devices, which makes Zoodles a perfect fit."
Presumably HTC is planning to launch a kind-friendly mode on their upcoming Android tablets, but with HTC also suspected to be looking into Windows 8 tablets this service may pop up in other places also.
HTC has also invested $40 million in OnLive, the streaming video game service, and appears to be slowly gathering a platform of services which, while not rivalling Apple or Microsoft in scope, certainly looks very interesting in breadth.
Read more at FT.com here.