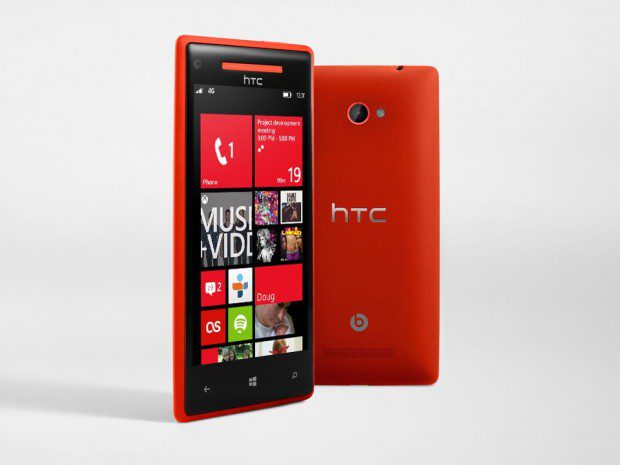 HTC has announced its financial results for Q3 2012, and any sign of a turn around in its fortunes has been elusive.
In fact things appear to be going from bad to worse, with the company announcing Q3 profits of $133.17 million,  down from 637.85 million last year and $252.68  million in Q2 2012. The news surprised even pessimistic analysts, who had expected profits to drop to $190.91 million.
Samsung Electronics reported a record quarterly profit of $7.3 billion on Friday, demonstrating that the market is increasingly consolidating around Apple and Samsung to the exclusion of smaller companies like HTC, Nokia, RIM, LG and Sony.
Analysts do not expect's HTC's new products, including their new Windows Phone 8 handsets, to help it to regain market share and profits, expecting them only to help it keep its ground.
"Before we turn more structurally positive, we would like to see its flagship models contributing a large portion of its business, as its strategy of reducing its number of models leaves it much in need of a hit model for 2013. Until then, we see margins posing a downside risk," wrote Goldman Sachs analyst Robert Yen in a research report.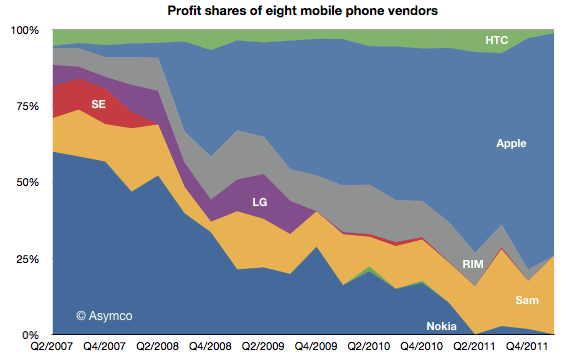 The graph above by Asymco from May 2012, depicting % profit in the industry over time, shows the bind the majority of phone OEMs are in at present – squeezed on the high end by Apple and Samsung, and on the low end by Samsung's very wide range of handsets and large marketing budgets. While HTC's Peter Chou has blamed the issues on too much bureaucracy it increasingly appears the problems are structural in the market itself, with HTC merely fighting the tide which is sweeping away most other smartphone OEMs who lack the scale and vertical integration of Samsung and Apple.
Much like the carrier market, the best solution may be consolidation of the smaller players. Maybe there is some fire to the smoke of a major HTC/Nokia/Microsoft merger after all…
Via Reuters.com