Engadget has given the HTC 7 Trophy a good going over, and came away surprisingly enamoured with the handset.
They had some complaints about the middle of the road specs, noting "there's not a single standout spec in the bunch" but found the built quality good, the camera adequate in good light (but pretty bad in poor light) and battery life pretty good with around 24 hours in moderate use.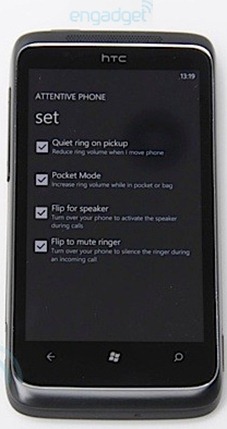 They also revealed something rather interesting. Apparently HTC has managed to convince Microsoft to let them extend the phone app, with HTC making available an app called "HTC Attentive Phone", which brings many of HTC's nice touches from the HTC HD2 to Windows phone 7, including flip to mute, flip for speaker, pocket mode and quiet on ring.
Engadget concluded:
HTC's Trophy is not the best smartphone on the market. It's not even the best Windows Phone 7 phone. To make matters worse, you'll often find the Trophy sitting side-by-side with the equivalently priced LG Optimus 7 when shopping for a new WP7 handset in Europe — both are €49.90 on contract with Vodafone in Germany or free in the UK with monthly plans starting at £25 (our review unit is sold by Coolblue in The Netherlands for $499). And honestly, given our choice, we'd opt for the Optimus 7 given that it matches the Trophy spec-for-spec yet includes a better exclusive software suite, a beefier 1,500mAh battery, and double the internal storage at 16GB. Yet even with middling hardware and a brand new version 1.0 Microsoft OS that is clearly lacking the maturity of iOS or Android, it's simply hard to resist this sleek little lightweight gem of a handset running a very promising — and dare we say fun — take on the mobile OS experience. Try as we might, we can't put it down even though we have an iPhone 4 and Galaxy S at our immediate disposal. The HTC Trophy may not be our smartphone champ but it's definitely a winner.
Read their full review, which includes sample pictures and video, here.