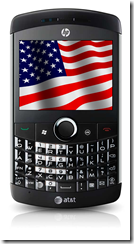 Not that it will be greatly missed, but TamsPPC has been able to confirm with HP Europe that the HP Glisten will not be making it across the pond.
HP's Austrian press department said:
Dear Sir,
we are sorry but the HP iPaq Glisten will not be made available in EMEA. It is an US only product.

With best regards…
The HP Glisten is not the most high-end device possible, mainly due to the small,  low resolution screen, but it ticks most other boxes, and it is a shame to see any Windows Mobile device confined to only one market.
Are you in Europe and hoping to pick up the Glisten?  Let us know in the comments below.