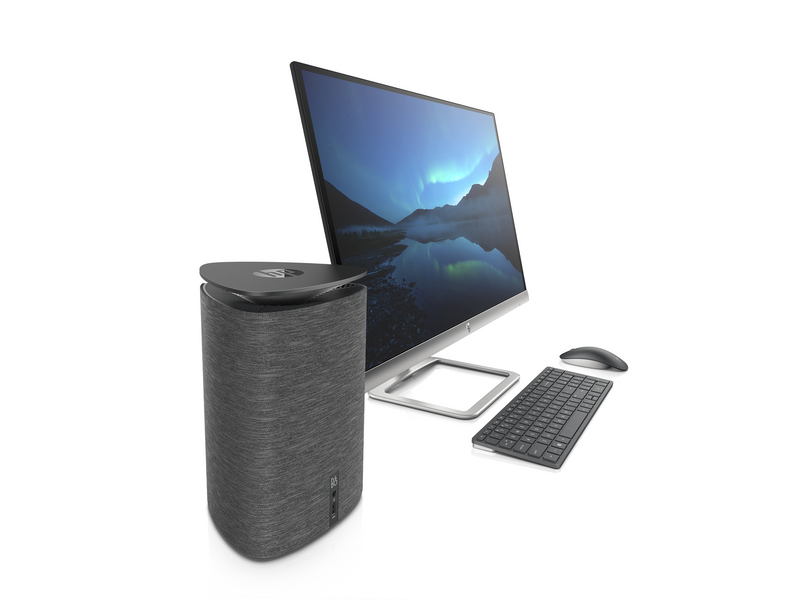 At IFA 2016, HP first announced HP Pavilion Wave and HP Elite Slice desktop PCs. Yesterday, they launched it in India and revealed the pricing and availability details.
The HP Pavilion Wave is designed for customers who want a PC that can fit into small places, the new offering is a beautiful and compact design with the power of a full-sized desktop. It features an iconic triangular form with an innovative parabolic reflector with an integrated speaker on top of the PC for superb, 360-degree sound to fill a room with crisp audio. It is 85 percent smaller than traditional tower PCs at 6.81″ x 6.62″ x 10.29″. Imagine the Wave as a beautiful speaker that can also act as a PC.
Other features include:
Up to two 4K displays are supported out-of-the-box to power entertainment and productivity.
Peripheral support with three USB 3.0 ports, one USB 3.1 Type-C port for data transfer, one HDMI port, one DisplayPort, Gigabit Ethernet and a microphone/headphone jack.
Cortana support with two dual microphones for customers to talk to their PC for a hands-free experience.
High-performing power house with up to 6th Generation Intel Core i7 quad-core desktop processors, ample storage up to 2 TB HDD5, an optional dual drive with 128 GB SSD5 and up to 16GB of DDR4 system memory.
 Optional AMD Radeon R9 M470 discrete graphics for photo and video editing or light gaming.
HP Pavilion Wave starting price is Rs 61,99 and is expected to be available from October 2.
HP Elite Slice is a modular PC with support for snap-on modules. Its modular design features curves in matte black with polished copper accents. Customers can pick and choose a factory cover or stackable options to add functionality including the Collaboration Cover or Wireless Charging Cover, or stackable modules such as the Audio Module or ODD (Optical Disk Drive) Module according to their needs.
Four different covers to choose from:
HP Collaboration Cover: turns the desktop into a Microsoft Skype for Business phone

 

for easy call management with capacitive touch keys.
HP Wireless Charging Cover: wireless charging starts automatically upon contact to eliminate charging cables and ensure mobile phones and devices are powered, ready for use. The Wireless Charging Cover is expected to start shipping in the first half of 2017 and requires factory configuration.
HP Audio Module: spoken word tuning makes virtual meetings and call experiences crisp and clear with audio tuned by Bang & Olufsen, 360 degree speaker design, dual-microphone array with range of five meters and HP Noise Cancellation software.
HP ODD Module: for quick and easy back up or to archive files and access legacy content on CDs or DVDs.
HP Elite Slice starts at Rs. 62,990 and it will be available from October 1. HP Audio Module will cost Rs.9990 while the HP ODD Module price will cost Rs.8990. HP is also planning to sell Elite Slice for Meeting Rooms for Rs. 84,990 from October 1.