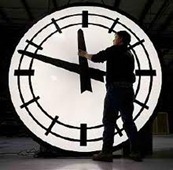 Daylight Savings Time has long been the bane of many smartphones, including Windows Mobile, with the rules changing all over the world and from decade to decade, and of course many areas not observing it at all.
We have had a tip that Windows phone 7 may not be handing the DST switchover in USA this weekend very gracefully, with the Dell Venue Pro in question initially being one hour ahead of where it should have been, and then synchronizing back to the actual (DST-adjusted) time, possibly getting this from the network.
How have our readers in USA found the switch on their phone? Let us know below.
Thanks Notebookgrail for the tip.