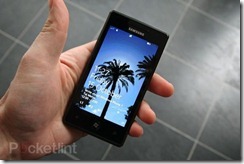 Now that Windows phone 7 handsets have hit the market, many Windows Mobile users of old may be wondering if its worth the upgrade.
Many articles concentrate on what Windows Mobile users lose when going to Windows Phone 7 – cut and paste, 30,000 apps, USB Mass storage, tethering, multi-tasking and a whole lot of freedom.
While the list is long, we don't often see a list talking about what an upgrading user gains. Lets try and make a change in this article:
1) A polished operating system – try as HTC might, Windows Mobile never did deliver a polished and consistent user experience.  With Windows Phone 7, it is all about the user experience.
2) An operating system 3rd party developers care about. Windows Mobile did not have an official Twitter or Ebay or Tesco shopping app.  While Windows Mobile has a huge legacy of apps, apps supporting modern services are severely lacking.
3) An integrated music and entertainment service – this is something Windows Mobile never had. Good bye to the awful Windows Media Player.
4) A predictable and stable platform which means a Samsung handset is as good as a HTC handset, meaning real freedom of choice.
5) An operating system Microsoft is fully behind and intends to upgrade – lets face it, for the last 4 years, since waiting for Photon and Windows Phone 7, this has not been Windows Mobile 6.5, which was severely neglected.
As a Windows Mobile user I know I have been waiting for much of the above for many years, and much of the freedom I enjoyed under Windows Mobile was to patch the holes in the user experience, now not necessary on Windows Phone 7.
Of course many critics may say you could get much of this from going iPhone, but I believe, like myself, many of our readers would rather slit an artery, and will leave it at that.
Is there any more advantages of going Windows phone 7? Let us know below.