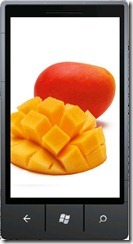 Windows Phone Hacker has a pretty simply method of updating your Windows Phone 7 handset to Mango, but of course anyone thinking of doing this must be aware from the outset it could result in a bricked handset, and even if everything goes well they may end up not being able to upgrade to the official Mango version when it is released.  At the very minimum it is guaranteed they will lose their text messages between now and the upgrade and whatever data they have entered into their apps (e.g. game save positions, passwords, expenses) that have not been exported or backed up to the cloud.
We advise against doing this hack and take no responsibility for any issues which may arise.
Now, if you are still foolish enough to proceed the method is very simple.  Windows Phone Hacker's tool provisions your device as an OEM dev device for Mango, meaning you get Mango dev updates pushed out just like the people in Samsung and LG do.
The latest version of the WPHacker tool also automatically backs up your phone, meaning one less step to worry about.  On my pretty full 8 GB Trophy this took 22 minutes.
The instructions are as follows:
Plug your phone into your PC and close the Zune software.
Download the WPHacker tool from their page here.  Extract it to a folder. Run Update.bat. It currently does an automatic back-up of NoDo, which you will need to revert to if you want the official Mango update.  Note again all the data collected on your device between now and then will be lost.
The software will automatically launch the Zune app on your desktop.
From here, go to settings>Update>check for update on your Zune desktop app.  An update will be found, which you need to install in the usual way.
After it has been fully installed (the first one is quick) repeat the process of checking for an update  for a second time.
In my case the second update was very slow, and may have taken 45 minutes.  There is a progress bar on the phone itself, but moves so slowly one may think the update has stalled.  It has not. Do not unplug your device!
Once this is completed the desktop Zune software will also attempt to update itself, but it will fail.
Download and install the Zune 4.8 client here.
That's it.  All done. 
Again – be sure to keep your NoDo Backup safe (it is in C:\\PreMangoState)  – it is the only way to get back to the straight and narrow again.
Read the instructions in more detail and how to revert at Windows Phone Hacker here.
If any of our readers have attempted this hack, let us know below.