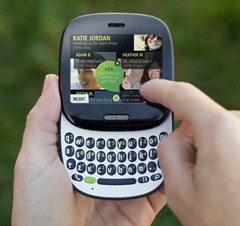 After this week's abrupt but not totally unexpected discontinuation of KIN devices, the question now is how the Windows Phone 7 team can take advantage of the assets (and risks) they will be inheriting from the KIN team.
Although it's probably too late for KIN to make any impact on this fall's release of Windows Phone 7 (maybe that's a good thing), here's some things we can expect KIN to contribute to Windows Phone 7 in the future.
Loop, Spot and Studio
Obviously, you can bet that KIN's three flagship features will probably make it onto WP7 in one form or another. Indeed, at the end of the day KIN, like many of Microsoft's other properties, was more about software and services than about the hardware itself.
I cannot live without the Loop. Well, I'm exaggerating, but the fact of the matter is that the idea that your phone's home screen should be a constantly-updating friend feed is genius, and I'm surprised no one thought about it before. (yes, I've heard of MOTOBLUR, but I cannot say I'm familiar enough with it to compare it to the KIN Loop). How the Loop paradigm can fit into Windows Phone 7, I am not sure. Microsoft is pretty committed to WP7's Live Tiles as a home screen for it to face competition from the Loop, and it would complicate things if we had a third home screen (the other ones being Live Tiles and the app list). The most appropriate place for the Loop would likely be under the People hub. Indeed, many of the hubs already have miniaturized versions of the Loop in that they have "recently updated" panoramas of pictures, games, etc.
I'll admit that I did not use the Spot very much, perhaps I'm not part of the so-called "upload generation", but I do like the idea of making it super easy to upload pictures/websites/etc. As another WMPoweruser writer noted, perhaps Office integration is in Spot's Windows Phone 7 future . But first they need to improve the Spot as it currently stands, which means adding the ability to post links to Facebook and Twitter, as well as uploading to other popular sites such as Flickr and Digg.
But it is the Studio which is KIN's crowning jewel, and the one which many people want to see show up on Windows Phone 7. I wholeheartedly agree, but there are a couple of issues that would need to be resolved. First is the fact that Microsoft made the Studio free for KIN users because it knew that the customer base would be few and manageable (though I'm sure it did not think it would be as low as it was). With Windows Phone 7 we are talking about an engagement of millions of customers from different networks and from different parts of the world. I don't know if giving Studio free of charge would be feasible for Microsoft given that magnitude. Luckily, Microsoft already has other established cloud properties which can be leveraged to provide and expand Studio functionality, such as My Phone, Windows Live (particularly Sync and Skydrive), and Zune Social. Some improvements I could see Microsoft doing to the Studio is adding texting from the web, checking voicemail from the web, and the ability to browse the Marketplace from the web and have it install apps automatically to the phone (like a reverse 'kill switch' 😉