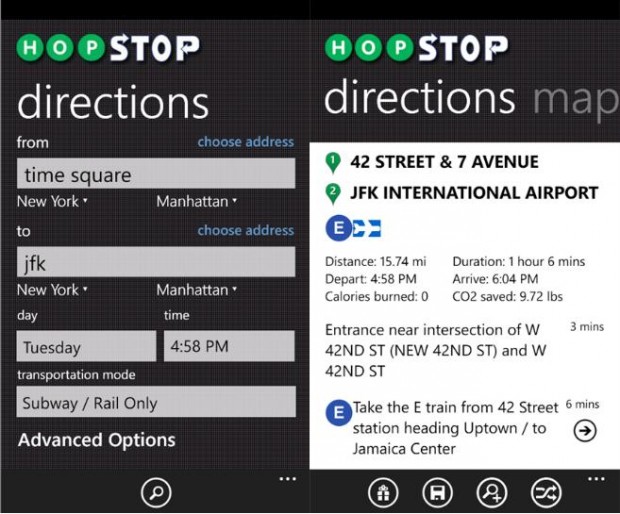 HotStop app lets you get door-to-door transit, walking, biking, taxi and hourly car rental directions in over 100 cities worldwide. You can also find places to visit, eat, drink, and sleep.
Features:
• Get directions from your current location using GPS functionality
• Access addresses from your contact list
• Map a location and see nearby subway and bus stops
• Estimate travel time and cost for a taxi and call taxi companies with a tap
• Set your travel preferences – bus, subway, walking, taxi, include/exclude regional rail or vehicles operated by private companies
• Save recent searches and favorite trips in MyTrips
• Get biking directions in NYC, Washington DC, Chicago, and San Francisco
• Find out how many calories you burn on each route and how many carbon emissions you save compared to driving
• See wheelchair accessible and stroller friendly routes
Download this free app here from the marketplace. Visit http://www.hopstop.com/ for more details on the cities covered, etc,.
via: Mobilitydigest