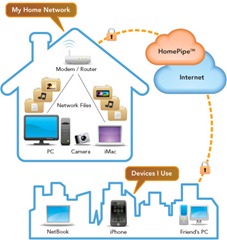 HomePipe is a consumer-focused cloud solution that enables instant and safe access to all your home files. HomePipe gives you free access to your favourite photos, movies, and music, residing on your home network, using any smartphone, netbook or Web browser.
Unlike some cloud services, HomePipe has no storage limit because it leverages your own home storage.
The client has now come to Windows phone 7, and unlike some other cloud storage services, appears to integrate very well with the OS, allowing Office Documents to be opened using the built-in apps, and with music integrated in the music and video hub.
The free software is available in the Windows phone 7 marketplace now.