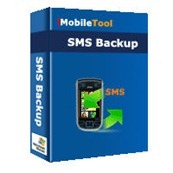 Currently if one were a first generation Windows Phone 7 owner wishing to upgrade to a second generation handset one one would lose not just all your game progress and app data and settings, but also all your SMS messages.
There is no solution for the other issues yet, but ConanWTN on WPXAP.com has developed a homebrew app for backing up SMS messages on your Windows Phone.
Interestingly it appears the Windows Phone 7 OS already backs up the SMS messages from the previous day to a file \Application Data \ Microsoft \ Outlook \ BackupVols \ CommsBackup.xml.  This was discovered by Thunder_ on XDA-Developers.com.
ConanWTN's app will make daily backup of your SMS messages and store them in Isolated Storage, where they can be copied to your desktop. The next version will allow upload to SkyDrive, and also for exporting of SMS messages as text.
Unfortunately to get access to this file requires a fully unlocked Windows Phone, which means only a few devices are supported.
Read more about SMS Backup at WPXAP here.
Thanks Max for the tip.