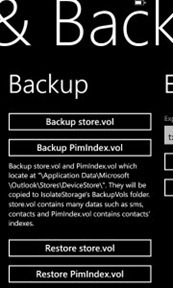 WPxBox have updated their homebrew SMS Backup and Restore tool to allow the backing up and restoration of contacts also.
The app, which requires an unlocked and possibly Interop Unlocked handset also, allows the pimIndex.vol to be moved from protected storage into Isolated Storage, where it can easily be moved to the desktop using the ISO Storage Tool.
Unlike the SMS Backup, for which no alternative exists, contacts can of course be synched to the cloud, but if you want to restore your handset rapidly after a hard reset it offers an easy alternative to the cloud.
The hack is obviously for expert users – the rest of us will continue waiting for an Microsoft solution which we believe is still on the way.
Read more and find the download links for the software at WPxbox here.