Hike Messenger is a popular WhatsApp-like messaging app developed in India that has been offfering some pretty good support for Windows Phone.
The company notes very good engagement and loyalty from Windows Phone users, and posted this graph showing growth on the platform.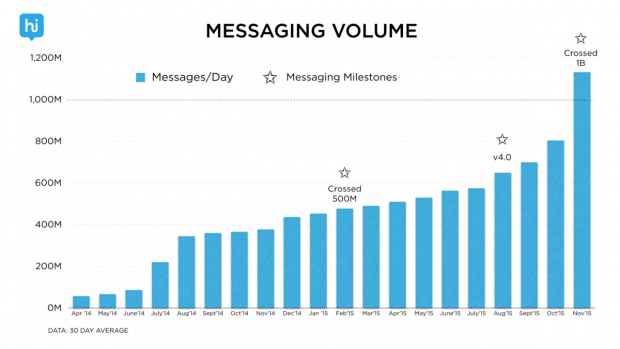 Now the company is planning to release a new app rebuilt from the ground up for Windows Phone 8.1 and Windows 10 Mobile, and are looking for users to "soak-test" the app.
The new app offers:
A complete makeover for Windows phone
New Chat themes crafted with love to suit your feelings
Share files up to 100MB in size [soon we will upgrade it to 1gb]
Transfer files of all types including notes, photos,docs & pdfs !
500 member Group Chats with multi-admin facility for big fun[again 1000 members soon]
1:1 mute chats so that you can go ahead and mute a friend who is pestering you without hurting his feelings.
The company is also working on a feature called Hike Direct, which would let users connect to each other directly over WIFI without any 3G connections e.g. at a beach or party.
Users can apply for the beta by emailing win81beta@hike.in and can find the beta app in the Windows Store here.