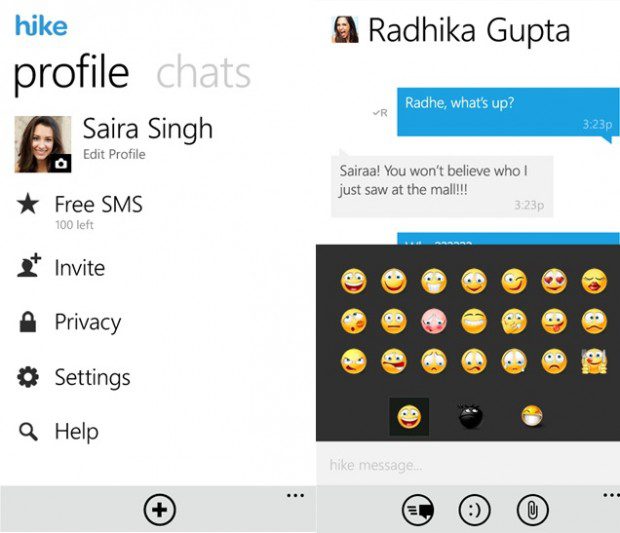 Hike cross-platform messaging app is now available for Windows Phone devices. It is exactly similar to WhatsApp with a notable difference being the ability to send SMS within the app.
Features:
CHAT FOR FREE: Once you download the application, you can chat with any of your friends for free. Hike to hike messaging is free, always, worldwide.
FREE HIKE2SMS TO INDIA : We've also built in FREE hike to non-hike SMS. So if your friends aren't on hike you can still message them. And better yet, for free! Free SMS can only be sent to India.
FREE SMS INVITATION: Invite anyone & everyone via SMS for FREE.
GROUP CHAT: Create a group chat with friends and family on hike and also with those who aren't on hike via Free hike SMS. All in one group!
SEND PHOTOS: You can send photos audio and more to friends on hike and also those who aren't on hike via Free hike SMS!
FAST: hike is super fast. With sent, delivered, read and typing notifications, it feels like you're having a chat with someone in person.
SIMPLE, PERSONAL: We've spent countless hours making hike a gorgeously simple app. Messaging has never been simpler and we mean it.
NO USERNAME & PINS: Just like SMS, hike works with your phone number and integrates flawlessly with your existing phone address book. Its that simple.
EMOTICONS: We did say it was 'Fun, free messaging for life'. hike has some awesome emoticons that you can share with friends. You've never seen more emotional and funnier emoticons!
FAVORITES: Discover friends on hike and add them to your favorites list with ease
PROFILE PICTURES: Tap on a friends profile picture to enlarge it
LOCATION SHARING: Share your location with friends
Download it here from Windows Phone Store for free.