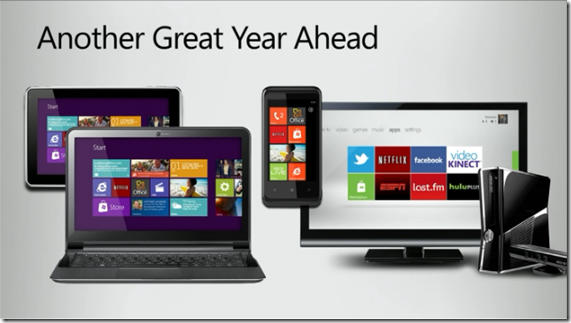 1) Windows-
Microsoft have sold 400 million licenses of Windows 7 Operating system so far.
Hardware investments in Windows 7 will pay for Windows 8 too.
More on Windows 8 at BUILD conference later this year.
Windows Intune V2 beta available to Technet customers.
20% of Internet PCs worldwide now runs on Windows 7.
2) Office-
Microsoft have sold over 100 million Office 2010 licenses so far.
Office 365 is seeing great momentum and winning customers over competitors whenever they engage with them.
Over 50,000 business have signed up for Office 365 trials so far.
3) Windows Server And Azure:
Over 76% of servers sold last year were with Windows Server in it.
Many new customers on Windows Azure and Windows Azure continues to get momentum among enterprise.
4) Bing:
3% market share growth from last year. Now Bing holds 14.1 % of search market share in US.
Making great progress that allows people to not just search links but to help people to get their job done.
From partnerships with Yahoo and Facebook, Bing will continue to make progress.
5) Dynamics And Other Business Apps:
Its 10th anniversary since Microsoft entered into Business application space.
20% compound growth since launched.
Cloud version of ERP coming later this year.
Skype acquisition is under regulatory approval process. It represents consumerisation of IT and together with Lync and other technologies like Active Directory will help business better communicate and collaborate.
Lync is the "Kinect of the Enterprise".
70% of the Fortune 500 companies now have Lync as part of their IT.
6) Xbox:
Xbox became No.1 Gaming console in US.
Kinect became fastest selling consumer electronics of all time
Enterprise really excited about Kinect, that's the reason of release of Kinect SDK.
Next generation of Xbox experience(shown at E3) coming this Christmas.
7) Windows Phone:
Steve Ballmer- We've gone from very small to very small but it's been a heck of a year"
Expecting momentum from Nokia partnerships.
IDC predicts Windows Phone to be No.2 in smartphone market share.
Overall, Microsoft is progressing ahead with its unique nature and breadth of offerings. With 3 screens and cloud strategy along with backend IT technologies, Microsoft expects an another great year ahead, not to mention the great financial results as well which Steve hinted during his speech.