It has been 10 years since the first iPhone was announced, Apple's flagship mobile phone is one of the most hyped flagship devices of the year. With a mobile market share of about 12-15%, iOS is the second largest mobile platform in terms of the Market Share (as per data from IDC).
Unlike its biggest competitor, Android it is less open and less customizable. This means that you can't apply any third-party UI (launchers) or change the default apps. Also, it is not so easy to sideload any apps on your iOS device unlike it is on Android or Windows 10 Mobile devices but the closeness of the OS leads it to be really smooth and secured. With the latest A11 Bionic Chip that comes with iPhone 8 duo and the iPhone X, the devices are super powerful and due to the presence of the multiple Microsoft productivity suite Apps, the iPhone really transforms into an iPhone Pro.
Here are our picks of iOS apps that will make your iPhone powerful:
Outlook Calendar and Email: Both the services merged into one app: Outlook has been proved one of the best email and calendar clients on the Planet. With the integration of Facebook, Evernote, Wunderlist, etc. it makes it super powerful by synchronizing data amongst services and builds a common service to interact with. It is a great service to replace Apple's Mail and Calendar services. Also, Outlook app for iPhone now supports the iPhone X design.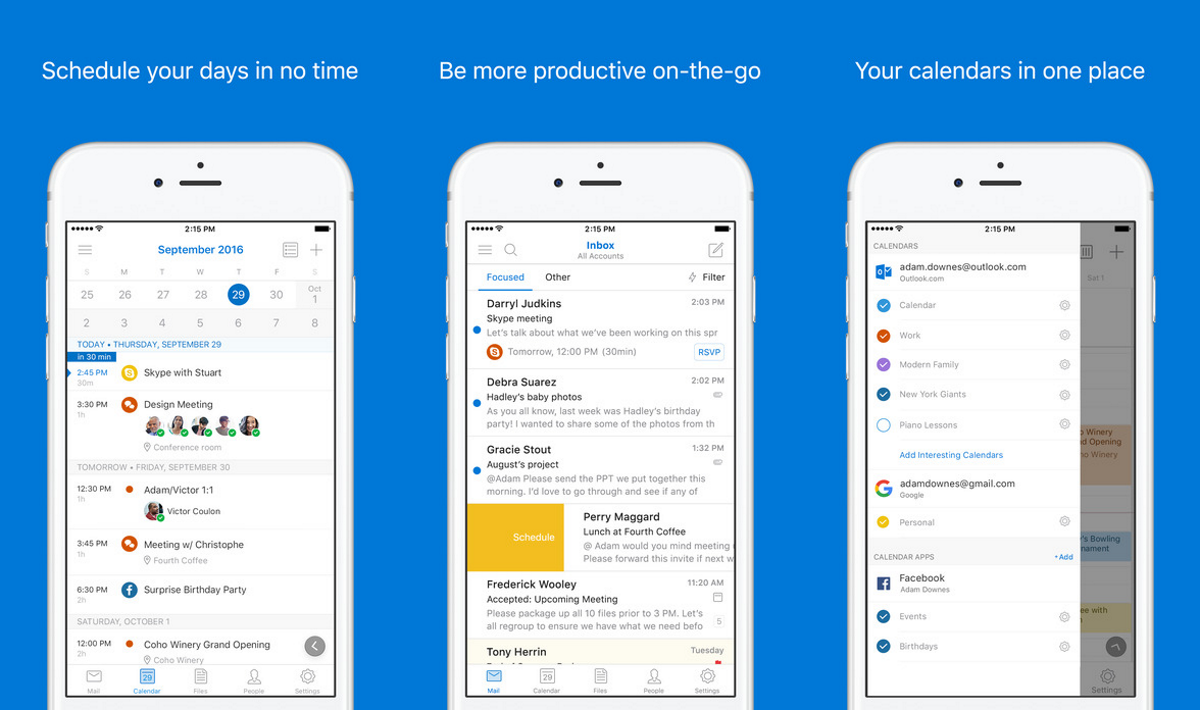 Microsoft Office: Microsoft's Word, Excel, PowerPoint, and OneNote are one of the most productivity-oriented apps from the Office team at Microsoft. No matter what platform it is, the Office Suite of apps helps the user to create or edit Documents, Spreadsheets and Presentations. With the power of Microsoft Cloud, OneNote makes it super easy and convenient for the user to take notes which are always available on all the devices. These apps are regularly updated for speed optimizations, bug fixes and features availability.
Microsoft Pix Camera: Microsoft Pix Camera is a great camera app exclusively available for iPhones and iPads. This camera app is smart with features like Auto Sync feature at sync the camera roll with the Cloud, Hyperlapse feature makes it possible for the users to create time-lapse videos with multiple speeds supported. Pix Style helps the user to take advantage of a collection of vintage filters that make the photos look good. Other features like Face Recognition to optimize how people look in the photos, Moment Capture to select the best frame out of multiple frames of photos and Live Images to relive the moment with a small video loop of the photos. This app also supports the new design of the iPhone X.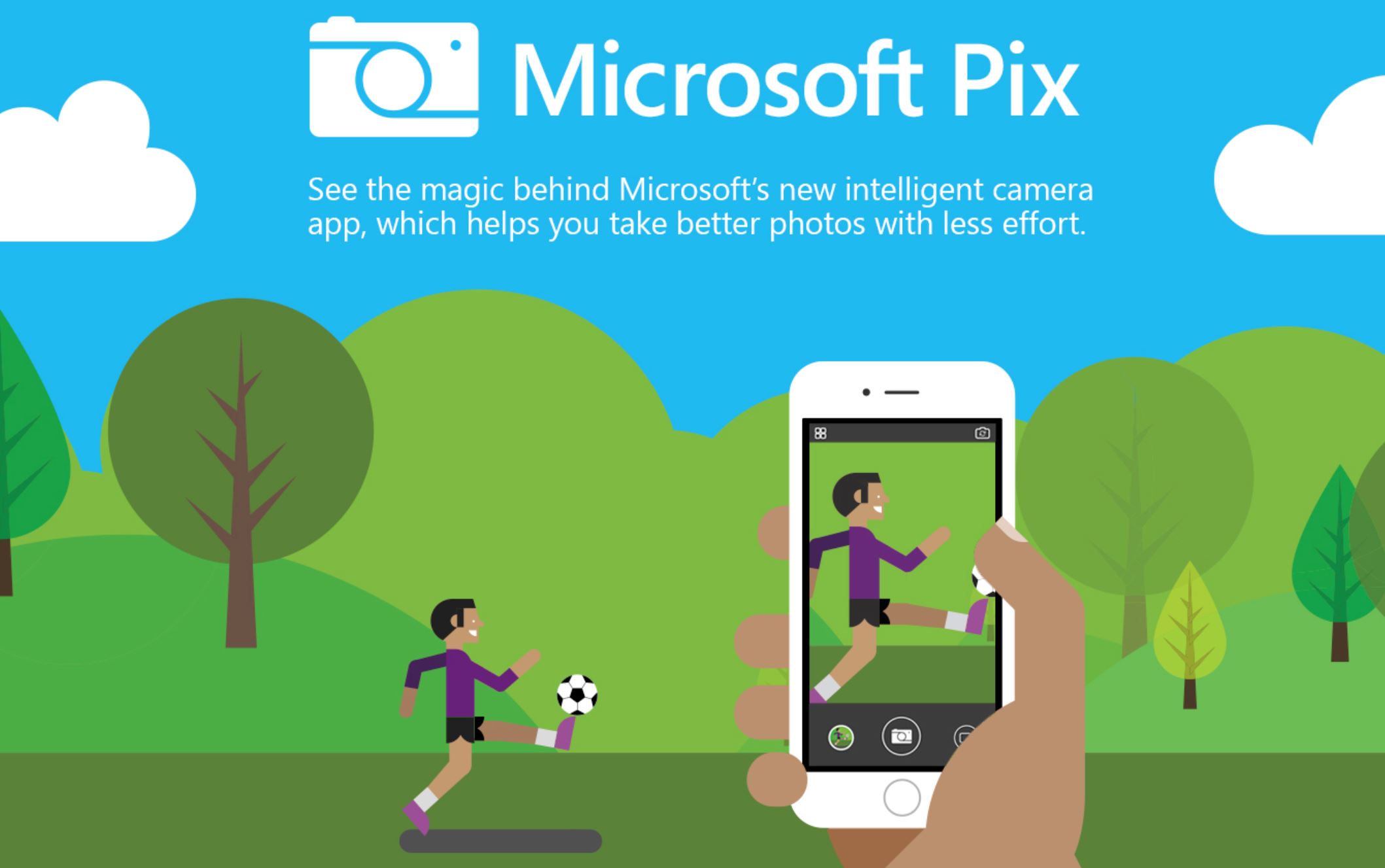 Continue on PC: A new feature from Microsoft in response to Apple's Continuity. Now, this app enables iPhone users to continue their work from their mobile to their Windows 10 PC running Fall Creators Update or newer.
Microsoft OneDrive: Microsoft's iCloud competitor, OneDrive is one of the best Cloud Storage provider in the market. With a free storage of 5GB, auto-sync capabilities and integration with Microsoft's Office apps this app is one of the main focused services by Microsoft. This service works on all the major platforms including Windows PC, Mac and mobile platforms including Android and Windows phones, you will be happy to get the same experience on whatever devices you are. Auto-tagging, support for share, Highlighting and annotating PDF files and offline files support make it useful.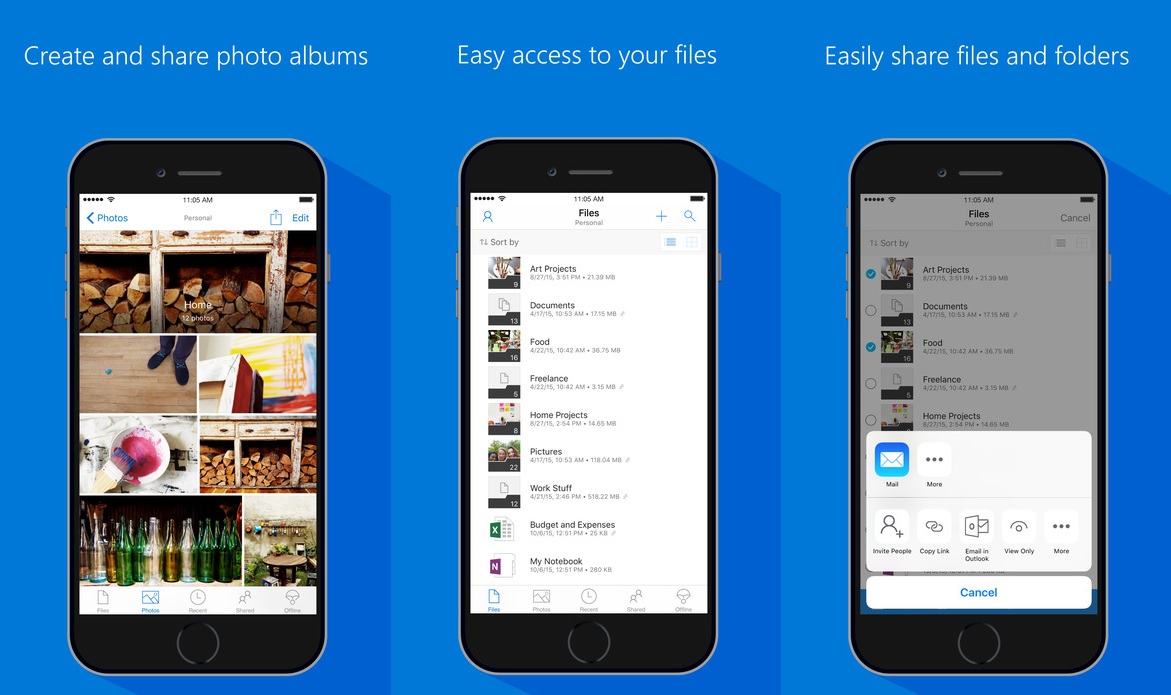 Cortana: Cortana is the crux of Microsoft's AI strategies. Claimed to be world's only 'personal' digital assistant, Cortana is great with Reminders. With support for reminders based on time, geolocation and people, Cortana helps users to stay up with their schedule, keep a track of their trips and shipments with Outlook integration. With the power of Bing, stay up with the latest from world and topics that interest you. Their services carry on to every device that you use with Cortana. Cortana is available on Windows 10 PCs, Phones, Xbox, Android devices and with Microsoft's Connected Car platform on your Car and Harman Kardon Speaker.
Xbox: Your gaming assistant from Microsoft: Xbox helps you do more with your iPhone. Join Live Clubs, find groups and games to play, group messaging, feeds from friends, and buy games from the store on the go so that you get playing it as soon as you get home on your Xbox. Also, you can use your iPhone to navigate using the device's keyboard and touch and a media controller for your Xbox One.
Skype: Skype is one of the most powerful IM service in the world. Acquired by Microsoft in 2012, Skype has been a great source of business for Microsoft. With the new design and services for the service, you can seamlessly communicate with your loved ones with messaging, voice calls and video calls even in groups for free. Moving on the concept of Stories you can now share your days and your activities using a new feature call Highlights. Also, you can make unlimited calls to Mobiles and Landlines in the US for free. Also, Skype for Business helps you make use of the service to get your office work done.
SwiftKey Keyboard: Acquired by Microsoft in early 2016, SwiftKey has proven to be another great deal. The keyboard app is available on both iOS and Android that learns your writing style by leveraging the use of multiple algorithms and autocorrect. With the support for shape writing, you can type faster by flowing through the keys, 800 emoji characters available, support for about 65 Languages and all themes available for free to get a fresh look for your keyboard regularly. Also, the latest update brings support for photo themes that make it far more personal.
Office Lens: Microsoft's Office Lens is an answer to other handheld scanner services from Adobe Scan and Camscanner. Whether you are a student or an adult, Lens makes sharing of handouts, notes and documents easy using other powerful services like OneNote and OneDrive. This service is supported and is updated regularly with new optimizations and features like recognition for Notes, whiteboards or business cards.
Microsoft Translator: With a support for translation to 60+ languages both online and offline, Microsoft translator is one of the most powerful translation tool on the planet. You can use Microsoft Translator to translate text or translate speech in real time too.
Microsoft To-Do: It is a simple and intelligent to-do list that makes it easy for one to plan their day. You can add, organize and schedule your to-dos while on the go and check them as you achieve your goals. And with the power of the cloud, sync them across all your devices.
Seeing AI: This is one of my favorite apps when it comes to real-time use and innovation. This app is for people who are visually challenged as it helps them to recognize friends, emotions, objects, and text in real time. Whether you are out for dinner at a restaurant or reading a document, just point your camera towards it and make the app read it loud. This app is available in only 4 countries as of now including USA, UK, Australia, and Ireland.
Microsoft Edge: One of the latest addition to the Microsoft apps on the iOS app store, Microsoft Edge is Microsoft's own, brand new web browser. With intelligent syncing capabilities of history, favourites, and bookmarks, you can now also use the reading mode on the browser for a convenient reading experience. Also, with the Continue on PC feature built in, you can carry on your work from your phone to your Windows 10 PC anytime. This app is still in beta and hence available to a limited number of users, but it will soon be available publicly. Watch out this space (https://www.microsoft.com/en-us/windows/microsoft-edge-mobile?apple) for the latest feeds on the same.
This was our list of the most powerful apps from Microsoft for iOS devices. With Microsoft killing off their mobile strategies of Windows 10 Mobile, Microsoft is now focusing on bringing its services to other platforms and is continuously supporting it to empower their customers who are on Android and iOS too.
Do you have any additions to this list? Let us know in the comments below!