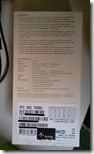 A lucky user over at XDA-Developers has received an HD2 in its full retail packaging, and is able to report that it comes with a pouch, and a 2GB microSD card.
It had 2 Gb card, and leather case enclosed… and it is… super fast!!
The poor image quality is blamed on photobucket…
I for one can't wait to get one of these in my hands!
Click for larger versions
Here is a video of the unboxing.
Thanks StrangerX for the video.