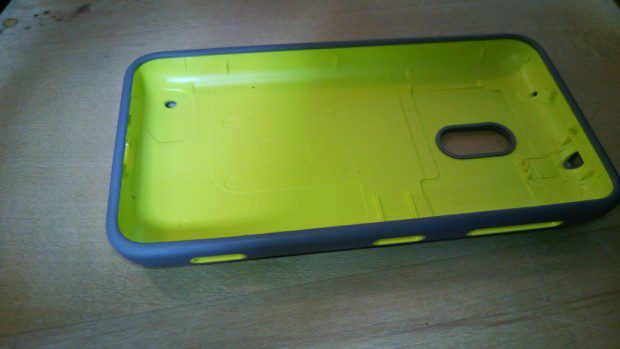 At the Nokia blogger meeting last month Nokia showed us the splash proof and drop resistant case for the Lumia 620 which was officially announced yesterday. So far we were not allowed to write about it, but since it is now official, you can get a little HandsOn after the break.
Looks
We were shown a grey case made of rubber. I mean real rubber, like the one you will find in those rubber hammers, only a bit softer (yes, that's actually a pretty accurate explanation). It was a prototype, you can see this on the pictures because it did not have buttons, but I think the drop resistance was pretty similar to the final version.
After pulling on the cover the device felt slightly heavier and thicker than with the normal cover, but it wasn't too much of both. You could even say it was pretty good for such a cover.
However, the colors chosen   did not fit my personal taste. I personally found the mix of light grey and a bit of yellow a bit ugly, but of course everyone has their own taste.
Resistance
As it was a prototype without buttons we of course couldn't test the water resistance, but were able to test the drop resistance. A colleague some seats away from me literally smashed the device n the floor, and…
… nothing happened, except that it bounced back one or two centimeters (which is normal for rubber). Since the case does go a little bit further the display you normally don't even need to worry about the screen, which seems to be perfectly well protected in this case as well. If you throw the phone down from several meters I wouldn't be that sure about the screen's reliability anymore, but seriously, who does smash a phone on the floor from several meters (except PhoneBuff maybe).
From the appearance of the case I would not say it is meant for diving, you really should not jump in a pool with this case on, but when you use it in rain, or it falls into the toilet and you pick it out very quickly, you shouldn't worry about your beautiful Lumia 620, I think it will still be safe. But like I said, we could not test the water resistance, but this is my assumption after taking a close look at the case.
Using it in dusty environments shouldn't be a problem either. The device will be perfectly safe at the beach on in the African savanna, the only thing I would worry about is the screen, which can be easily scratched through sand.
All in all I think the drop and splash resistant case for the Lumia 620 is a must have for only 25 bucks. The price is totally acceptable.