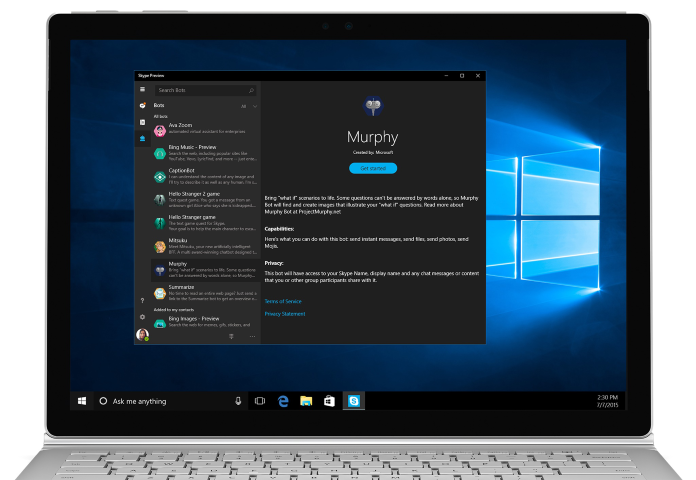 It has not been an easy road for Microsoft in the world of unified messaging.  It has been several years since the tech giant made Skype one of its largest ever purchases.  Now, after an on-again, off-again relationship with your cell phone, Microsoft appears ready to bring SMS and Skype into one world.
Recently, fast ring Insiders were given access to the new unified experience in Skype Preview.  This requires users to make Skype the default messaging app, in return for bringing SMS texts into the fold.  I've spent the last few days putting the preview through some real world practice and have some thoughts about where things stand now and where it's headed.
The Early Days
If you are interested in trying this new way to text, you must be on the fast ring of the Windows Insider Preview.  If so, you are already used to some bugs on the bleeding edge and Skype Preview is no different.  The first thing I noticed in daily use is the sluggish speed of the program, sometimes delaying my receipt of texts by several seconds to several minutes.  Actionable notifications were also very slow and sometimes unresponsive on my Lumia 950.  These are not criticisms, just warnings that this is a "preview" in every sense of the word.  So if performance is important to you, you should steer clear of the new messaging system for now.
Although buggy, users will hopefully not have to wait long for things to improve.  Upgrades will come in the form of updates to the app, rather than updates to the OS.  That is a major benefit moving forward as Microsoft squashes bugs and adds features to the new service.
Key Differences
The first thing you'll notice is the drastically altered format from the Messaging app, or even the traditional Skype app.  The much maligned hamburger menu is front and center.  Right now, customization of the new look is not allowed, so don't expect to pick your own color scheme or even get it to match your accent color.  I would expect this to change in future updates.  Text in Skype Preview is now smaller, and features italicized subtext previewing each conversation in the list.
Once inside a message thread, things look a little more similar.  The differences lie in the Skype features, including the call/video buttons at the top.  One commonly used text feature I struggled with in Skype Preview was adding images to the conversation.  That feature was buried at the very bottom of the conversation window and appeared to disappear when you bring up the keyboard on mobile.  Again, this appears to be a bug that should be easily fixed in future updates.  The desktop version works just fine since, due to added real estate, you don't have to pop up a keyboard on the screen.
Bots to the Future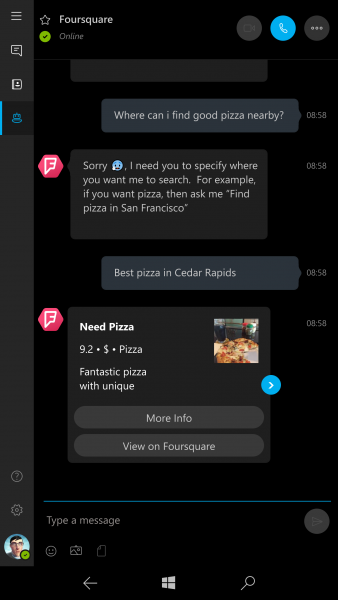 A while back, Microsoft CEO Satya Nadella touted bots, automated AI chat friends that are a big part of the new Skype.  I've played around with some of the bots currently featured in the preview.  Most serve a useful purpose. but anyone digging into them will notice they don't quite have the flexibility that Cortana users enjoy.  For example, I toyed around with the Foursquare bot and asked for pizza nearby.  The bot responded that it needed more information.  I assume this is because, unlike Cortana, bots currently don't have access to my location.  Once I gave it the information needed, it pulled up a favorite pizza joint.
Some of the bots are pure time killers, one plays blackjack while another allows you to talk to Mr. Spock from Star Trek.  But others allow you to dig through images, news articles and other useful features.  Mr. Nadella sees a big future for these bots.  While I understand his vision, it does not appear that the AI is ready to keep up with that vision.  Time will tell if that happens sooner rather than later.
Final Thoughts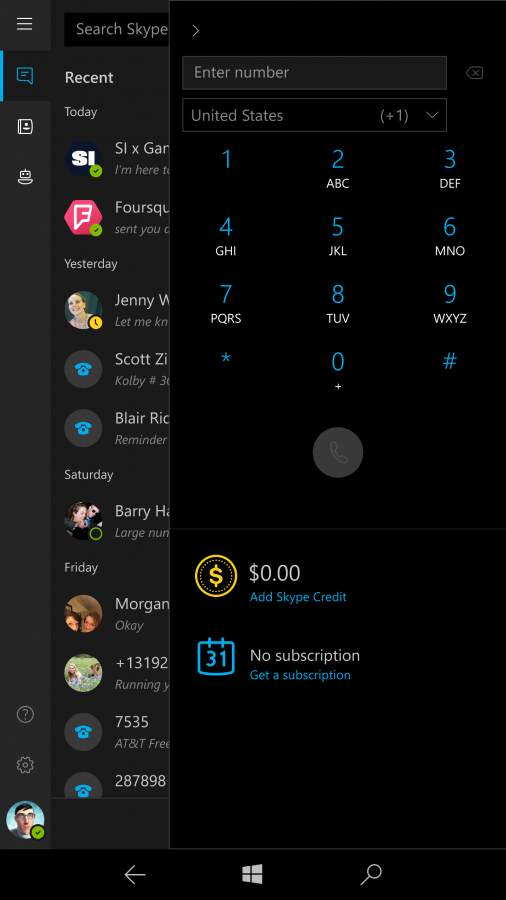 I've been an Insider since the beginning.  And I've always enjoyed getting an early look at the future of Microsoft and Windows Phone (provided it still has a future).  Skype preview is very interesting and it also raises a lot of questions.  With the current direction of Microsoft, I'm curious if this level of SMS integration ultimately comes to other platforms as well.  With Microsoft trying to regain a foothold for its venerable Skype brand, I would be shocked if they didn't try to push the integrated Skype to Apple and Android devices in the future.  For now, as a fan of Windows Phone, I'm just happy we're seeing this feature first.
Bottom line, the new Skype has a lot of fit and finish to go before I would recommend its use to the average user.  The sluggishness is noticeable enough that it would frustrate most users that are accustomed to instant response while messaging.  Microsoft says they hope to roll this out to all consumers in a few months.  That would put it on par with the potential release of Redstone 2, which reportedly focuses on new mobile features.
If you are a member of the fast ring, then give Skype Preview a try.  But you'll likely go back until this new integration becomes fully formed.