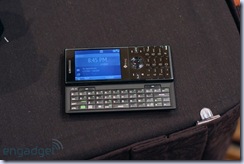 Even though everything these days is all about Touch, I must say that WM Standard devices have impressed me over the last year. None more so then the HTC S740. Alas, it comes without U.S. 3G so my excitement for it was tempered despite a great form factor and sleek design.
HTC must have a psychic tapped into my head because behold the HTC S743. All the great features like the 528 MHZ Processor, 2.4" QVGA screen, HSDPA 7.2, Wi-Fi and GPS are all here. The only difference between the 2 devices is that the S743 has 850/1900 for HSDPA and it's missing the video calling camera. Needless to say it's a slap in the face to all the Latin American nations with 850 3G and Video Calling but I digress. Thanks to Engadget Mobile for the Scoop.
See the full gallery at Engadget here.