Kazam previously announced their Kazam Thunder Windows Phones before the start of MWC. We sought them out and had a chance to go hands on with their trio of devices at their booth.
The Kazam Thunder 340 W – The Kazam 340 W is a nice low-end Windows Phone that covers all you'd expect for lower end devices. It's got a 4 inch IPS LCD WVGA screen and is a little chunkier than some may like. It has a 1.2 GHZ quadcore (I assume SD 200) processor with 512MB of Ram and a 4GB of internal storage and a 5MP camera with a VGA FFC to top up the whole change. It will be sold in Europe for 89.99 Euros.
However, it is very much a "my first smartphone" and I have the overwhelming feeling that if you're reading this site, this phone is very likely not for you and you should possibly think of the Lumia 535 or 640 instead.
Gallery
The Kazam Thunder 450 W / WL– The Kazam thunder 450W is a grown up version of the 340W.
It features the now exhausting HTC One-esque design present in many white-label Windows Phones nowadays with the specs to match. You get a 5 inch HD screen, 1.2 GHZ of quadcore processor and an 8MP/2MP camera set. The phone does feel nice and light in the hand, and its yellow exterior is bright and colourful. It is reminiscent of the previous Lumia and HTC Windows Phones which used that fluorescent colour. It will be sold in Europe for 149.99 Euros.
The Kazam Thunder 450 WL is the same phone with the "L" standing for LTE and a slightly different design and a price tag of 199.99 Euros. While the 450 W only came in "Lime", the WL comes in "Champagne and Silver" and features a design reminiscent of the HTC One M8 as opposed to the M7 style of the 450 W. Other differences include the dual sim and Bluetooth 3.0 in the 450W as opposed to single sim and BT 4.0 LE in the WL. As well as the addition of "scratch resistant glass" in the latter.
Check out the pics below:
Gallery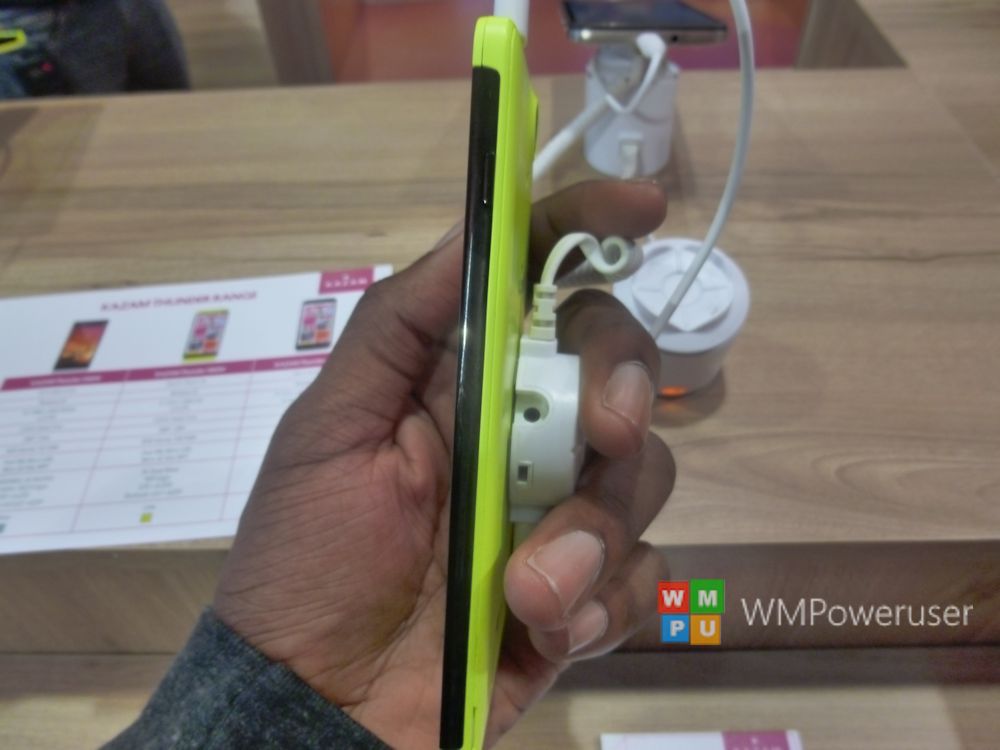 What do you think of these two devices?