Handmark has launched its Windows Mobile application store, HandMarket Apps, promising to bring a selection of free and paid apps and games alongside 40,000+  ringtones within easy reach in your Windows Mobile phone, claiming to make the process simple, quick and fun.
Key Features are: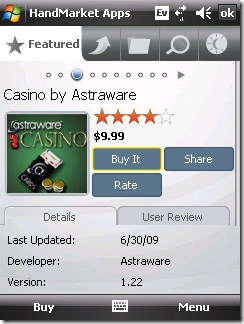 Every app is quality-tested for your Windows Mobile phone
Includes free, paid and subscription mobile applications including games, ringtones and apps
Intuitive user-interface allows you to browse by most popular, featured and new releases
Drill-down by category or search to find the apps you want in an instant
Detailed product information including thumbnails, screen-shots, user-ratings and reviews
Convenient payment methods including Visa, MasterCard and American Express, as well as carrier billing for Sprint, Alltel and AT&T customers
Built-in locker allows you to store your payment information for one-click purchases; view and re-download purchased products and share your favourites with your friends
Read in-depth user reviews and submit your own
See collective user-opinion at-a-glance by star rating -Touch-screen enabled
Access to HandMarket Apps exclusive offers
Unfortunately Handmark seems to be intent on making it difficult to access the service, by only allowing download after entering all your details and receiving a text message, so we can not provide a first-hand report of the software. If any of our readers have tried it out, let us know of your experience in the comments.
The Handmarket App store can be downloaded from Handmark here.