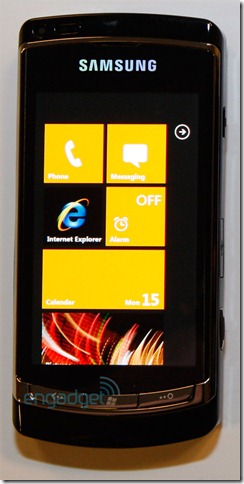 Samsung has now admitted that the Samsung device shown of running Windows Phone 7 at MIX10 recently was in fact a hacked Samsung i890 Omnia HD.
"The launch was from Microsoft, not Samsung, and they used the i8910HD to demo Windows 7," said a Samsung spokesperson.
"It's not yet clear whether existing i8910HD users will be able to upgrade to Windows 7 as this demo was a one-off."
An upgrade is however unlikely, with Techradar suggesting that not just the buttons needed to be silk-screened, but the processor and screen also needed to be upgraded to 1 Ghz Snapdragon and a multi-touch WVGA version too.
That Microsoft and Samsung could so easily shoehorn Windows Phone 7 into the shell of another smartphone speaks to both an opportunity and danger for the OS and OEMs.  The OS has very strict and standardized requirements, meaning in the end there will likely be only one hardware design with different shells used by all OEMs, with OEMs having great difficulty differentiating themselves.  On the other hand, they will likely be able to easily, cheaply and quickly churn out a huge number of minor variations quite rapidly, which could potentially mean the market will be flooded with relatively low cost Windows Phone 7 devices.
Is the strict hardware requirements for Windows Phone 7 a benefit or a curse? Let us know below.
Source: Techradar via Ubergizmo.com