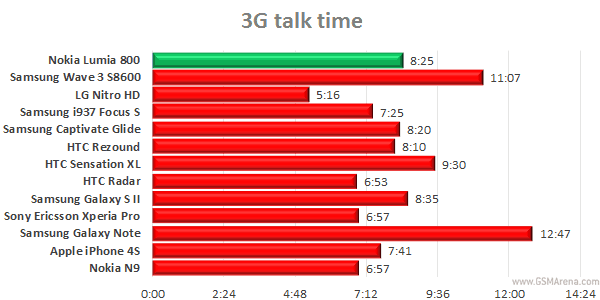 GSMArena have completed a comprehensive battery life test on the Nokia Lumia 800.  In their battery of tests, the Lumia 800 did well in 3G talk time, achieving 8hr 25 min of its 1450 mAh battery, better that all the other phones in the test except the Samsung Galaxy Note which has a 2500 mAh battery, the Samsung Galaxy S II with a 1800 mAh battery and Samsung Wave 3, which is a bit closer to a dumb phone. The performance is likely due to Nokia's expertise with radio technology.
Things go downhill from there though.
Video playback being about on par with the HTC Radar and out performed by many other performance.  This could indicate that Microsoft is not taking advantage well enough of hardware acceleration on Windows Phone 7.
Lastly, repeatedly loading a web page achieved only 4h 07 min of battery life, much less than the HTC Radar, which in fact had the best score in GSMArena's collection.  GSMArena suggests this may be due to the OLED screen draining the battery due to the white page.
Overall it is a mixed bag, but GSMArena did not reveal if the Lumia 800 had the latest firmware, and of course the Lumia 800 is due to have a further update which will make the whole 1450 mAh available, rather than the 1350 mAh which it is using now, which should improve the results further.
Read more at GSMArena here.