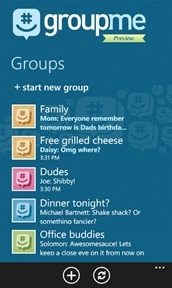 GroupMe is showing of preview screen shots of their new Windows Phone 7 app.  The app makes their offering truly cross platform, making it now present on Windows Phone 7, iPhone, Android and Blackberry.
The software was in fact developed by an intern from HackNY's Summer Fellows Program and with some help from Microsoft, as we reported earlier here.
At present the app has basic functionality, offering in-app chat, the ability to create conference calls, and manage groups. More features will be added in upcoming weeks.
Read more at Business Insider here.