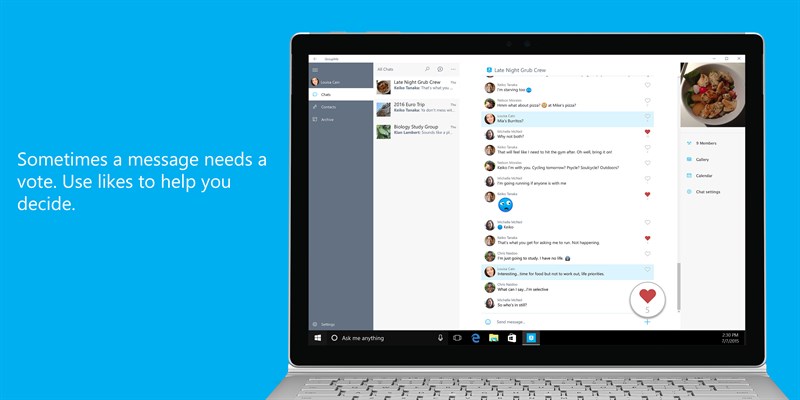 GroupMe app today received a minor update today in Windows Store and there is no new change log in the Store listing.
GroupMe App Features:
• START CHATTING FOR FREE It's simple to add anyone to a group using their phone number or their email address. If they're new to GroupMe, there's no need to download right away — they can start chatting over SMS immediately.

• INTEGRATED WITH WINDOWS View your groups right in the People app, and you can reply to messages fast with interactive notifications. Share photos and links with your groups from other apps.

• YOU'RE IN CHARGE Choose when and what type of notifications you receive. @Mentions help you find messages specifically for you, and you can mute or snooze a chat if it gets too noisy.

• THERE'S NO END TO THE FUN Meme images, find and share GIFs and videos, all right from GroupMe. Go ahead – fall in love with our exclusive emoji.

• COORDINATE EASILY Create and share events with your groups. See who's coming and who has liked your messages.

• CHAT WHEREVER, WHENEVER It doesn't matter if you're on a computer, at home or out and about — you can stay in touch easily on smartphone or tablet. Whether you're in class or at the office, GroupMe lets you stay in touch with your favorite people and makes sure you never miss a thing.
Download the update from the Windows Store using the links below.