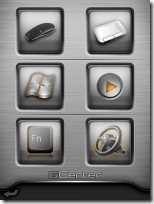 GRemote Pro was one of the first applications to bring remote desktop control to the new generation of Windows Mobile phones with advanced sensors, like the accelerometers and capacitive control areas. Today the product has seen a significant update to version 1.1 which brings native support for low power bluetooth connections, while still preserving all the functionality of the software.
While the software still needs a server on the desktop, this allows a lot more functionality than just emulating a mouse and keyboard such as Media Player control and Joystick emulation. The software still works over WIFI also, and support other features like user-created skins.
All major screen resolutions are supported, as well as Windows Mobile 5 upwards.
See the video below for the app in action.
The software is a free upgrade to current GRemote Pro owners and is available for new buyers from our software store at $14.99 here.
Read more at GBMSoftware here.
Via PDA.pl