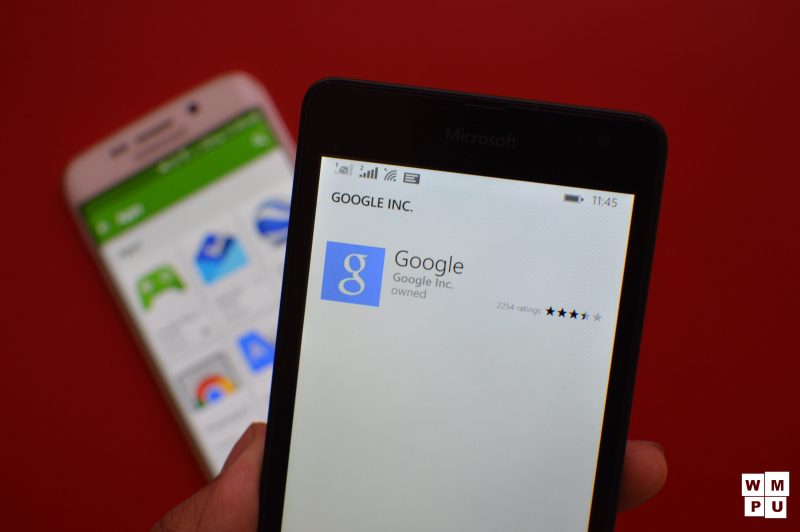 Watching Google's i/O 15 keynote and reading the interviews afterwards, I gained a sort of respect for Google's PR team. Throwing out terms like "reaching the next billion" and making the internet "more accessible" for users in developing countries, you would be forgiven for thinking Google was a company that genuinely, really wants everyone to access its services.
In fact, Google announced its services like Inbox and Google Photos as new features accessible for EVERYONE. Bowled over by their magnanimity, I immediately thought of installing their new apps on my Windows Phone before being reminded that I and most Windows Phone users are non-people to a self-styled company for everyone.
Google's passive aggressiveness towards Windows Phone is subtle and not new.
Since Windows Phone's inception Google has only developed one barebones app for Windows Phone, Google search. An app which has not been updated since 2013 and has since fallen behind the Google search apps on all other platforms. More prominently, there has been the YouTube app debacle where Google refused to make an app for YouTube on the platform and also went out of its way to disable Microsoft's own YouTube app. Then we have Google at I/O announcing products for everyone on IOS, Android and the Web and dubbing them as products for everyone. Its subtle but the undercurrent is still there. Windows users don't exist. We don't care about Windows users. Windows users are no-one.

Here's where Google's subtle hostility comes out. They claim to be creating products to reach the "next billion", to be making their products accessible for everyone. Why then is it Microsoft that is making its own products available everywhere and on all devices? Why is it Microsoft making deals to bundle Skype on Android devices and not Google bundling hangouts on Windows OEM devices.
Windows Phone has been overlooked for selling most of its devices on the low-end for some developers. The main profit does come from the high-end after all. This should represent an opportunity for Google. Instead of losing these low-end developing world consumers to Microsoft and their services, they should make their services, Google Hangouts, Google Search et al available on Windows Phone. They reach its healthy bank of low-end users in developing nations with no extra work required.
Google doesn't do this. What they do is much simpler. They simply maintain no presence on Windows Phone. Make no mention of it or Windows in general, nor do they even acknowledge it on support channels. Instead using screenshots of Windows Mobile instead. Windows Mobile.
Once more, the message is clear. The next billion do not include Windows Phone users. It does not include Windows store users. It does not include Windows 10 users.
I've had to sit and read this week about how Google hopes to connect the next billion and how they are changing the world with their apps and services. How they're a benevolent company who simply hope to connect people. I look at my Lumia which has been deliberately deprived of the chance to connect to people using Google services like hangouts and Google+(some people use it). I think of buyers of low-end Lumia devices in places like India who have been deprived of the chance of choosing between Google services and Microsoft services.
The only thing I can do is call bullshit.
---
*Next Billion is being used here as both Google looking to connect everyone via Smartphones and services. This article focuses on services.