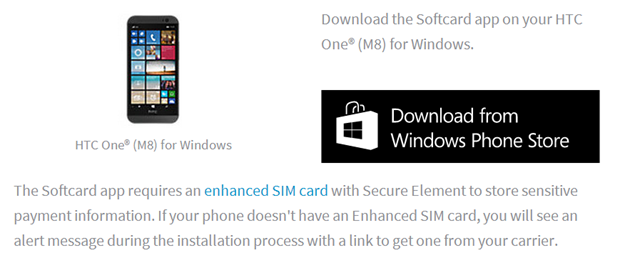 Windows Phone users only got access to phone-based contact-less payments a few months ago in USA, and now it is already looking under threat.
Techcrunch reports that Google is interested in purchasing Softcard, created by a cabal of AT&T, Verizon and T-Mobile, for around $100 million.
Google would not comment on the rumours, but Softcard itself is not doing too well, having recently laid off 1/3 of their employees.
"Softcard is taking steps to reduce costs and strengthen its business. This includes simplifying the company's organizational structure and consolidating all operations into its Dallas and New York offices, which involves layoffs across the company," a spokesperson said. "We believe these efficiencies will best position Softcard in the marketplace while maintaining focus on serving our market."
Softcard is supported by 200,000 merchants in USA, and can be loaded with funds from American Express, Chase, Wells Fargo and other banks, making it a relatively convenient system.
With the company in financial distress, it seems some kind of purchase, either by Google or some-one else (AT&T, T-Mobile, Microsoft and Paypal are also rumoured) is likely.
Lets hope its by an impartial company, rather than Google, who has always taken pleasure in underserving Windows Phone owners.
Read more at TechCrunch.com