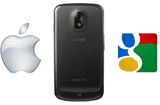 Today Google responded to the long running patent case victory by Apple against Samsung. Samsung is the largest Android OEM and next to flailing HTC it is also the only profitable Android OEM. Instead of backing their main partner, Google issued a statement that failed to admit what a patent minefield the Android OS has been for its partners and also did not promise any significant protection going forward.
Google's statement reads:
The court of appeals will review both infringement and the validity of the patent claims. Most of these don't relate to the core Android operating system, and several are being re-examined by the US Patent Office. The mobile industry is moving fast and all players — including newcomers — are building upon ideas that have been around for decades. We work with our partners to give consumers innovative and affordable products, and we don't want anything to limit that.
As Google said in its statement, Apple's victory over Samsung don't relate to the core Android operating system. It is because Apple focused on simple UI/UX elements which are directly lifted from iOS, and dropped the more complex patents from their case.
This does not mean they do not have the right to assert them later – in fact several upcoming cases will challenge Android more directly in the next few months on the fundamentals of their "free" OS.
If Google thinks Android OS does not infringe any patents, we want to remind them about the ongoing case going on between its subsidiary Motorola and Microsoft.
I just want to quote the content from FOSS Patents on the Motorola-Microsoft patent case in which German and US courts have already ordered that core Android OS infringes patents owned by Microsoft.
The Munich I Regional Court ordered a German patent injunction against wholly-owned Google subsidiary Motorola Mobility because the Android operating system infringes EP1304891 on "communicating multi-part messages between cellular devices using a standardized interface". The ruling comes six days after the United States International Trade Commission (ITC) ordered an import ban against Android-based Motorola devices that infringe on a Microsoft patent on event scheduling..
Google's statement fails to reassure OEMs in any way that their OS is safe to use, and that they are not quietly building up a billion dollar liability themselves, and in this way Google may finally be building up some insight. 
As Microsoft has long maintained, Android is far from free, and while they do not want trifles such as paying patent holders to "limit" them, in the end the piper does need to be paid.