Above is a graph of Gartner's the whole of 2010 smartphone market share, showing Nokia still in the lead with its Symbian platform. Of course the Q4 stats does show Android overtaking Symbian. 
Now we know both Windows Phone 7 and Android were in the race to become Nokia's new smartphone platform. If Nokia chose Android, this would have been the result:
Android would have held 60% of the smartphone market (of course discounting any shifts) leaving everyone else with insignificant market shares and Google basically unassailable as the default OS for developers.  This will of course also make any company selling the OS a simple commodity, something which Nokia has always feared.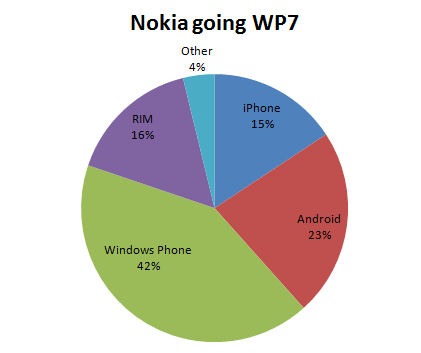 Of course Nokia ultimately chose Windows Phone 7, and due to its size (all else being equal of course) it will dominate the area, much like it dominated Symbian, a much better choice for the company than just being a big fish in the big Android ocean.
The smartphone ecosystem is also much more balanced, with several big players, rather than just one, and that will ultimately be better for everyone.