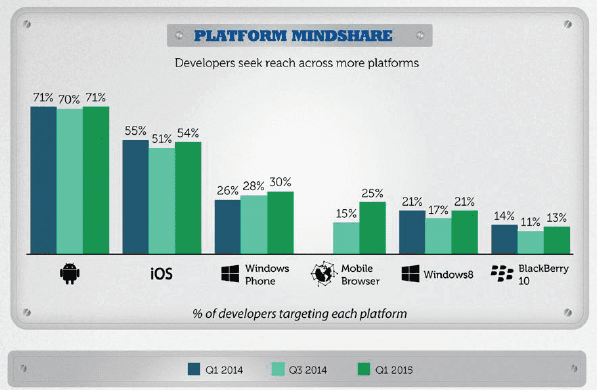 Good news for Windows Phone users.  According to VisionMobile's latest survey of 8000 mobile developers, interest in the OS continue to grow, with 30% of developers now targeting the OS, up from 28% 6 months ago and 26% a year ago. That number was 21% in Q3 2013.
This interest also extended to full time dedicated developers, which has increased to 8%, from only 4% a year ago.
Of note is that more than 70% of Windows Phone developers earn less than $500 per month, though a good 10% earn more than $5000 monthly, a number close to Android's 12%.
VisionMobile notes:
Windows Phone is highly differentiated and keeps steadily growing developer mindshare (now at 30% of mobile developers) but is still not making any significant headway with device sales share, which is stuck at 3%. Some major apps, including the top two banks in the US – Chase and Bank of America, have already lost patience and decided to remove their apps from the Microsoft platform.

Meanwhile, some smaller developers on the platform are seeing that there's less competition on Windows Phone. This is particularly true in categories where big brands have left a gap, like music and video. The big brand app gap enables indie developers to get greater visibility and make more revenue than on Android. As such, the number of professional developers prioritising Microsoft's platform continues to climb slightly to 8%. Interestingly, the platform seems to have fairly uniform adoption amongst developers across regions, despite this not being the case amongst users.

Unfortunately, lack of scale means that the top new apps come to the Windows Phone platform quite slowly, if at all, and many others are not updated. This leads to the vicious cycle of self-selection also known as the app-gap – most users who care about apps don't adopt Windows Phone and so in turn the platform isn't as interesting to the top developers. This leaves Microsoft fighting with its latest Lumia models for cost-conscious smartphone buyers who want something different to Android. This market is big enough to sustain a decent sized developer population but is it ever going to be big enough to sustain Microsoft's development of the platform and devices? It currently looks unlikely. If not, how long will Redmond continue to subsidise it? Microsoft is trying once again to leverage their desktop developer base by combining desktop and mobile under Windows 10 but also acknowledging the reality by aggressively building out their services with over 100 apps on Android and iOS.
The full report can be found here.