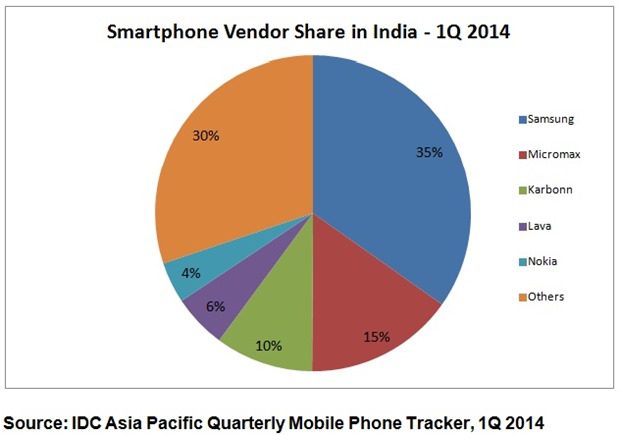 The IDC has posted some regional smartphone tracker data for India in Q1 2014, and it holds some mixed news for Windows Phone fans in the region.
On the side of the good news, the Indian market continues to be the fastest growing smartphone market in Asia Pacific in Q1 2014, growing 186% YoY to 17.59 million vs only 31% in China for example.
Also on the good news side Nokia made its way back to the top 5 smartphone vendor list with about 4% market share after dropping out a few quarters ago.
The bad news is that Microsoft/Nokia needed the Nokia X in addition to low-end Lumia handsets to achieve their mere 700,000 unit sales.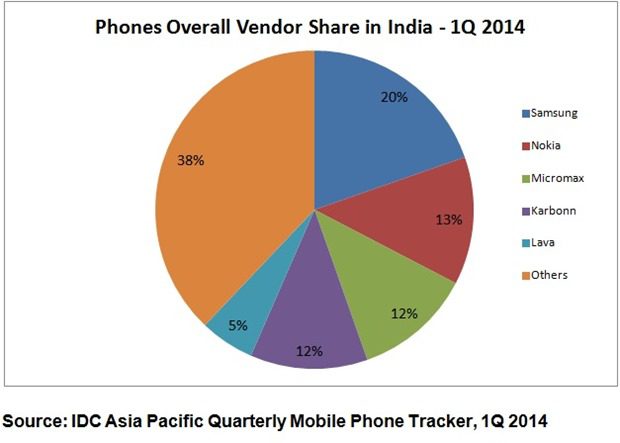 On the good side Nokia was still a significant force in the 43.5 million feature phone market, holding 13% share or 5.65 million handsets.
The bad news however is that the feature phone market is shrinking rapidly, being down 18% sequentially.
The Indian mobile phone market stood at close to 61.07 million units in total with the sub-200 USD category in smartphones contributed to about 78%. Phablets took 5% of the market, and grew 125% YoY.
"As more vendors continue to launch low priced smartphone models, the price gap between feature phones and smartphones will be narrowed, driving rampant user migration in the price sensitive Indian market," says Manasi Yadav, Senior Market Analyst at IDC India.
"This rapid pace of growth in smartphones is expected to continue in India. While we notice that much of the growth is coming from low-cost devices using the Android operating system, Windows is making adequate gains too based on the strength of the entry level product mix in smartphones," comments Kiran Kumar, Research Manager- Client Devices at IDC India.
Read the full report at IDC here.
The arrival of a whole slew of cheap Windows Phones from extremely popular Indian OEMs could change the picture dramatically over the next two quarters, depending how well Microsoft supports the marketing of these handsets.
Do our readers think the Nokia brand means much in India? Let us know below.
Via NPU