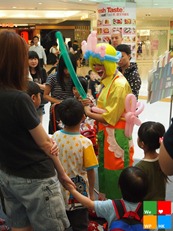 It seems Microsoft and Nokia in Hong Kong has changed tack a bit, and instead of targeting buyers directly, have decided to go for the impressionably young children first.
WeloveWP.hk have posted these pictures from a Nokia Lumia event held  in Tsuen Wan Plaza promoting the Nokia Lumia 710, 800 and 610.
Instead of the usual Smoked by Windows Phone show, there was instead a clown handing out balloon animals.
The clown was also instructed to create the giant balloon Windows Phone, seen in the pictures above.
The usual Windows Phone marketing fare was also available, and I bet those parents were forced to spend a lot longer than usual at the booth while their kinds awaited their turn with the clown.
See many more pictures at WeloveWp.hk here.