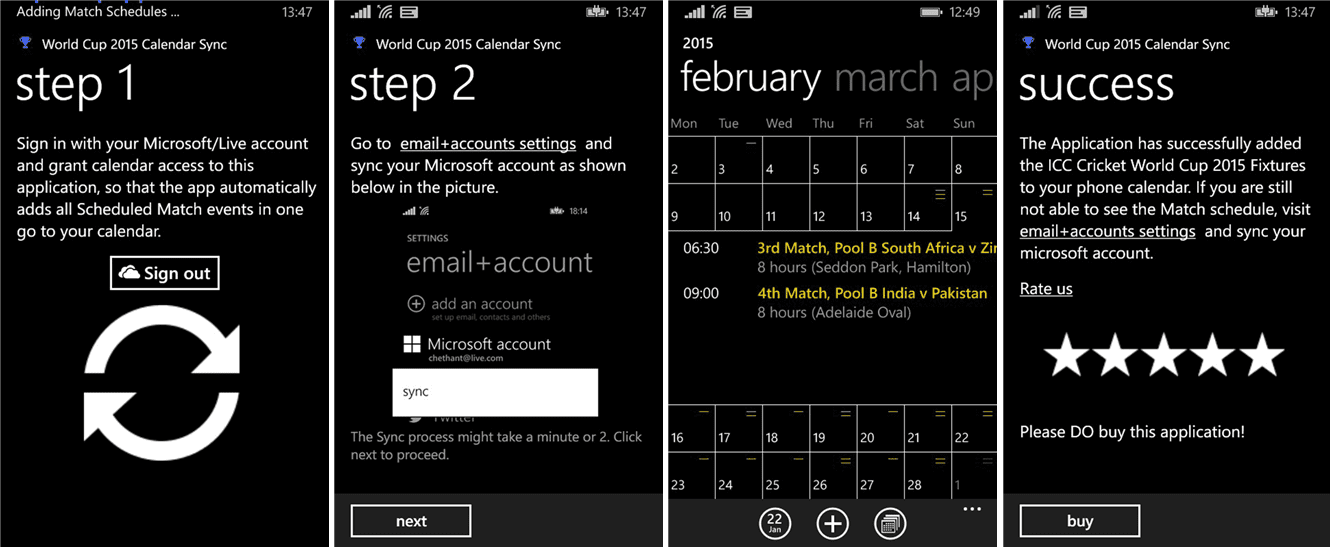 Love cricket? Here we have a nice, clean and simple app for cricket fans. The World Cup is around the corner with opening match on 14th Feb and is being jointly hosted by Australia and New Zealand. The finals will be played on 29th March. To keep track of the matches you may get this handy app that syncs the World Cup schedule on your Windows Phone so that you won't miss a match.
The process is rather easy and World Cup 2015 Calendar Sync does a nice job of walking you through the steps. It asks you to login to OneDrive so that it can sync the full schedule to the Calender Web app and then it asks you to sync your Microsoft Email so that the schedule gets on your Windows Phone. The app also syncs the venues and the match timings so that you won't miss a single moment.
The app is not a free app but that doesn't becomes a deal breaker. The trial version of the app has all the features and you can pay $0.99 to support the developer. The app is a must for cricket lovers. Do remember to rate and review the app.
Please note that the downside of using this app is, it grants access to your calendar to a third-party app which poses its own risks. We don't expect any bad intention from the developer but awareness is of course important.
Give the app a spin and let us know in the comments about your initial thoughts.
Download the app from Windows Phone Store Here.