Many are waiting for WP7 devices to be announced and are really excited about it. This is particularly evident from the fact that everyday news sites and blogs write about every WP7 device leaks, news, etc. and those bits of information  are receiving significant reaction from readers.
I found many of the folks who tend to know about WP7 owns other smartphones such as the iPhone, Android Devices, Â Blackberry phones and more importantly Symbian Devices, so I thought of making an easier and better way for the Symbian platform users to keep an eye on Windows Phone 7 news.
Today we are releasing a WMPoweruser App for Nokia Symbian devices.
WMPoweruser for Symbian app has the following features: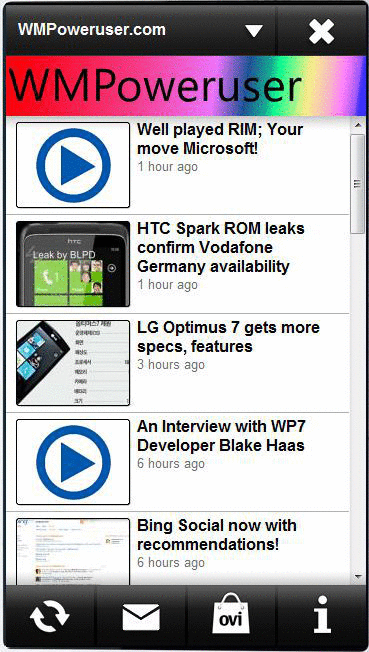 1) Ability to read WMPoweruser.com feeds.
2) Ability to view WMPoweruser YouTube videos.
3) Ability to view WMPoweruser Twitter feeds.
I hope this application will help Symbian users to decide on switching to WP7Â  and stay up to date with Microsoft's Windows Phone and Windows Mobile news, exclusive videos, interviews, images, etc.
If you are lucky (or unlucky) enough to have a Symbian phone, click the image below to get the app at the Ovi store.
For everyone else, we promise there is at least one or two Windows Phone 7 apps one the way 😉