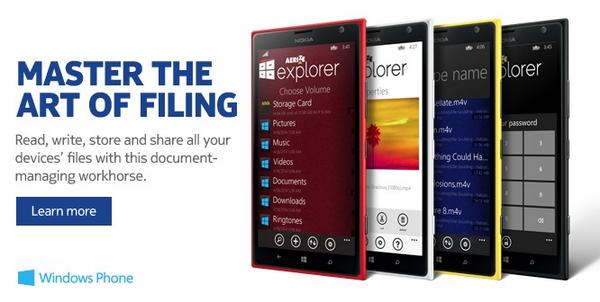 The award-winning Aerize Explorer enables premium file management features including pass code lock, custom backgrounds, configurable sizes, layouts, icon themes, and much more. Hurry up and get the file manager that forced Microsoft to release a Windows Phone file manager. Glowing reviews are in agreement, get the best file manager for Windows Phone now! Basic features free, supported by ads. Premium features available with purchase. Alternately, search 'Aerize' and install Aerize Explorer Pro the fully unlocked, ad free paid edition.
WINBETA – "Simple, Beautiful and Functional"
WINDOWS PHONE DAILY – "Went from good to fantastic"
WPCYTE – "The perfect file manager for Windows Phone"
WPXBOX – "Must have app on Windows Phone 8.1"
WPEXTRA – "Best File Manager for Windows Phone 8.1"
WMPOWERUSER – "A file Manager that actually delivers"
THEPOCKETTECH – "Powerful File Manager"
WINADICTOS – "Amazing file manager"
With an advanced file browser interface, Aerize Explorer can quickly manage your files, folders, and storage cards with ease. Aerize Explorer employs an intuitive Cut, Copy and Paste interface; this simplicity ensures Aerize Explorer is a powerful file manager. When you want to move a file or folder, simply Cut. Navigate to the destination and Paste. Simple. Easy. Powerful.
EASY ? Manage files with Cut, Copy and Paste
SHARING ? Share via NFC, Bluetooth, Email, more
POWERFUL ? Access files on device and storage card
PIN TILES ? Pin files & folders to the start screen
ZIP FILES ? Compress or decompress Zip, RAR, and 7Zip
THUMBNAILS ? Actual image and video files displayed
MANY VIEWS ? Compact, normal, and large file views
SELECT MODE ? Organize multiple files from folders
Aerize drops the $2.99 price to free for the first week of October. Get Aerize Explorer Pro for free from the Windows Phone Store.
* Won Microsoft //Publish/ prize for Best Windows Phone 8.1 App!
See a video demo below.